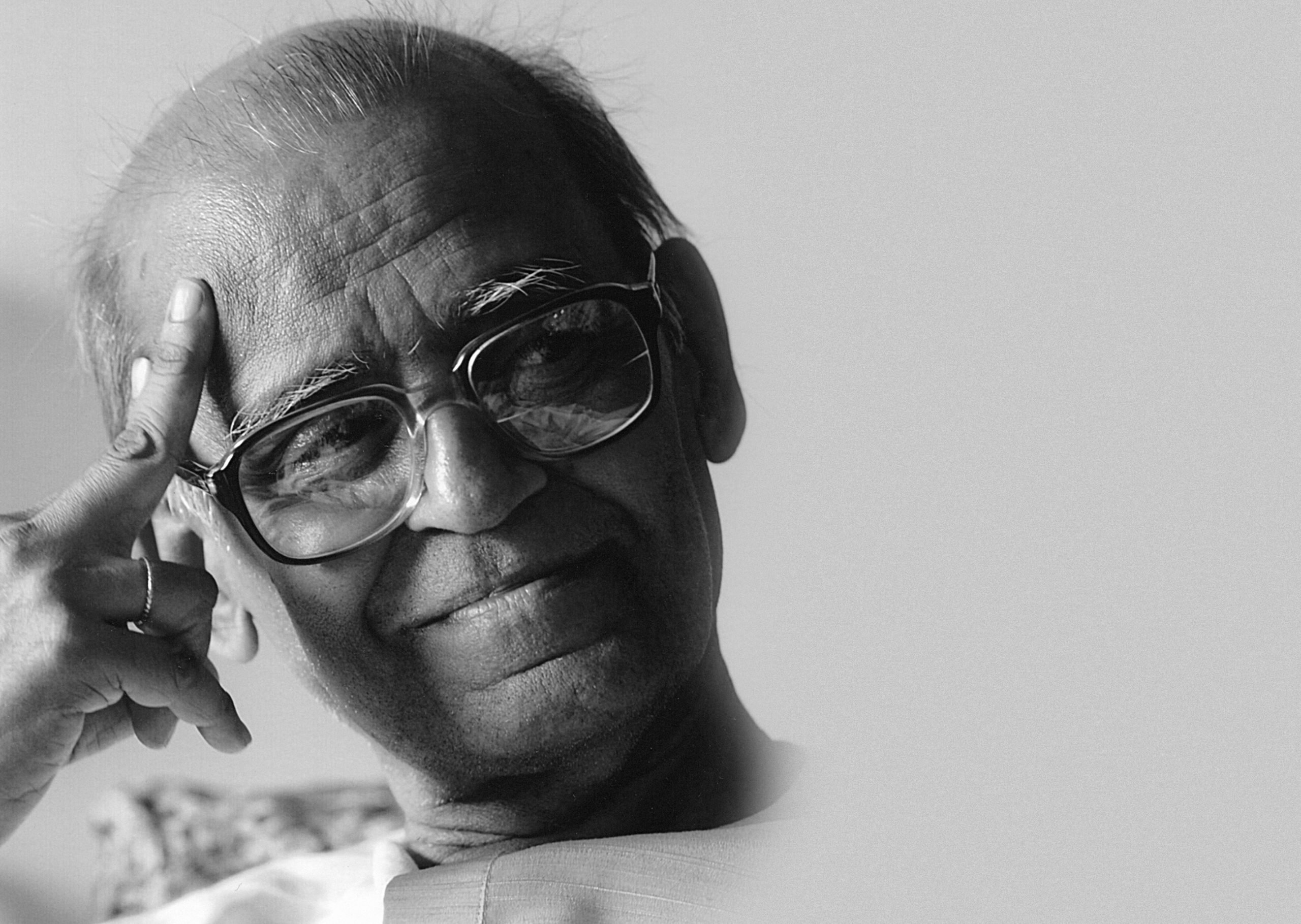 Dr. Ashok Damodar Ranade (25th November 1937, Pune – 30th July 2011, Mumbai) was a scholar musician par excellence. Dr. Ranade was a vocalist trained in traditional Hindustani Art music. He was a composer constantly experimenting with new uncharted vistas. A highly respected Guru, Voice Culture specialist, analytic thinker, profound writer, master orator and a pioneer of Cultural Musicology in India, Dr. Ranade was a missionary who contributed in enriching India's cultural life in the 21st century.
He was one of the pioneers of 'Ethnomusicology' in India. His books in English and Marathi are considered to be most serious and thought-provoking sources of cultural musicology. His individual perspective about the aesthetics of Indian music has been widely accepted. 'The theory of six categories of music' is considered to be the most important and well accepted theory proposed by Dr. Ranade which structures musical categories as
Primitive,
Folk,
Art,
Devotional,
Popular and
Confluence.
He was a high caliber composer who composed Bandish-s, with pen-name 'Rasik Rang', in many common and rare Ragas and Talas. He contributed as an educationist in the field of music by lending his insights for designing courses & syllabi at many Indian and foreign universities.
As a Guru he trained many in Hindustani Art Music such as Dr.Milind Malshe, Kedar Bodas, Suresh Bapat, Kalyani Salunke, Shuchita Athalekar, Chaitanya Kunte, Madhao Imartey, Vidya Dengle, etc. Many renowned singers such as Shruti Sadolikar, Faiyaz, Rajashri Pathak, Manjusha Patil, Ranjana Joglekar, Sameer Dublay, Prachi Dublay, etc. also got guidance from him during the thematic concerts. Many theater personalities, such as Bhakti Barve, Ila Bhate, Sayaji Shinde, etc. got his guidance for Voice Culture.
TRAINING IN MUSIC AND ACADEMICS:
Dr Ranade was trained under Pt. Gajananrao Joshi of Gwalior, Jaipur, Agra Gharana (training period – 1948-58), Pt. Pralhad Ganu of Agra Gharana (training period – 1958-62), Pt. Laxmanrao Bodas of Gwalior Gharana (training period – 1962-66) and Prof. B. R. Deodher of Gwalior Gharana (training period – 1970-74). He also got lessons & insight for "Voice Culture" from Prof. B. R. Deodhar who was pioneer of so in India.
Besides this musical training, Dr. Ranade had a strong academic background. He did LL.B. (University of Bombay, 1960), M.A. (Marathi, 1962 & English, 1964 – both from University of Bombay). He was awarded with title 'Sangeetacharya' by Akhil Bharatiya Gandharva Mahavidyalaya Mandal, Bombay in 1976. He had equal command on Music and Literature. He was well versed in Marathi, Hindi, Bengali, English and also Russian.
He was Founder Director of University Music Center, Bombay and served during 1968 to 83. He was instrumental in foundation of Archives and Research Center for Ethnomusicology for American Institute of Indian Studies at Pune and worked as Associate Director from 1983 to 1984. Later he was appointed as Deputy Director(Research, Theatre Development and Publications) at National Center for the Performing Arts from 1984 to 93.
He was popular interviewer on DoorDarshan, Mumbai (Television) and interviewed many maestros such as Bhimsen Joshi, Mallikarjun Mansoor, Gangubai Hangal, Gajananrao Joshi, Manik Verma, Ram Marathe, Jyotsna Bhole, etc. His peculiar humor, aptness in delivering the knowledge and keeping the artist on track made these interviews very successful and popular.
Sangeetache Saundaryashastra, Mouj Prakashan Griha and Aesthetics Society, Bombay, 1971 [e-edition published in 2020 by Dr Ashok Da Ranade Memorial Trust] (Marathi)
Lokasangeet Shastra, Maharashtra Universities Book Production Board, Nagpur, 1975 [e-edition published in 2021 by Dr Ashok Da Ranade Memorial Trust] (Marathi)
Stravinskyche Sangeetik Saundaryashastra, Board of Literature and Culture, Government of Maharashtra, 1975 (Marathi)
On Music and Musicians of Hindoostan, Promilla and Co. New Delhi, 1984 (English)
Stage Music of Maharashtra, Sangeet Natak Akademi, New Delhi, 1986 (English)
Maharashtra: Art Music, Maharashtra Information Center, New Delhi, 1989 (English)
Keywords and Concepts in Hindustani Art Music, Promilla and Co., New Delhi, 1990 (English)
Music and Drama, Sri Ram Center for Art and Culture, New Delhi, 1991 (English)
Indology and Ethnomusicology: Contours of Early Indo-British Relationship, Promilla and Co., New Delhi, 1992 (English)
Bhashanrang, Popular Prakashan, Bombay, 1995 (First reprint 2009) (Marathi) 
Hindustani Music, National Book Trust, New Delhi, 1997 (First reprint 2002, second reprint 2005) (English)
Essays in Indian Ethnomusicology, Munshiram Manoharlal Publishers Pvt. Ltd., New Delhi, 1998 (English)
Reflections on Musicology and History – With reference to Hindustani Music, Indian Musicological Society, Mumbai-Baroda, 2001 (English)
Bhashan Va NatyaVishayak Vichar, Popular Prakashan, Mumbai, 2001 (Marathi)
Hindi Film Song: Music Beyond Boundaries, Promilla Publishers, New Delhi, 2006 (English)
Hindusthani Sangeet, National Book Trust, New Delhi, 2006 (Marathi)
Music-Contexts: A Concise Dictionary of Hindustani Music, Promilla Publishers, New Delhi, 2006 (English)
Perspectives on Music: Ideas and Theories, Promilla and Co. Publishers, New Delhi and Chicago, 2008 (English)
Sangeetvichar, Popular Prakashan, Mumbai, 2009 (Marathi)
Mala Bhavlele Sangeetkar, Rajhans Prakashan, Pune, 2010 (Marathi)
Hindi Chitrapatgeet: Parampara ani Avishkar, Popular Prakashan, Mumbai, 2010 (Marathi)
Some Hindustani Musicians: They lit the way!, Promilla Publishers, New Delhi, 2011 (English)
Hindustani Sangeet, National Book Trust, New Delhi, 2014 (Hindi)
Sangeet Sangati, Rajhans Prakashan, Pune, 2014 (Marathi)
Pashchatya Sangeet Samdnya Kosh, Popular Prakashan, Mumbai, 2017 (Marathi)

'Marmadnya: Dr. Ashok Da. Ranade commemoration volume' edited by Dr. Aroon Tikekar, Madhao Imartey and Chaitanya Kunte was published in 2012.
PUBLISHED AUDIO MATERIAL (Conceived, Composed music for and Compered):
Baithakichi Lavani, Oriental Cassettes, Bombay, 1991
Devagani, Kalanirnaya-Zapata Cassettes, Bombay, 1991
Geetibhan, Departent of Music, University of Mumbai, 2007
Santanchi Vatchal, Shree Charitable trust, Mumbai, 2007
Sanchay, Underscore Records, Mumbai, 2007
Kala Ganesh, Shree Charitable trust, Mumbai, 2008
Ram Gane, Shree Charitable trust, Mumbai, 2009
THEMATIC MUSICAL PRESENTATIONS (Conceived, Composed and Compered):
Natyasangitachi Vatchal (1984)
Manapamanatil Gani (1986)
Sawan (1988)
Baithakichi Lavani (1989)
Devagani (1991)
Sangeetrang (1992)
Swarachakra (1993)
Rangbasant (1993)
Natyasangeetache Marathi Valan (1994)
Radha (1995)
Tribhang to Abhang (1995)
Rachanate Bandish (1997)
Gayakiche valan (2000)
Sanchit (2004)
Chandrabhairavi (2005)
Geetibhan (2007)
Santanchi Vatchal (2007)
Kala Ganesh (2008)
Ramgane (2009)
Chavata (1971)
Mythmakers (1971)
Shonar Bangla (1972)
Mata Draupadi (1972)
Devajine Karuna Keli (1973)
Sandhya Chaya (1979)
Ek Jhunja Varyashi (1988, Received Maharashtra State Award for Music Direction for the year 1988-89)
Kala Vazir Pandhara Raja (1992)
Tempt Me Not! (1993)
Rahile Door Ghar Maze (1995) (Maharashtra State Award for Music direction)
Baba Amte
Singing Line et al
Akar, an International Exhibition on Calligraphy, IGNCA, New Delhi, (1988),
Discovery of India, Nehru Center, Bombay, (1989)
On Fatehpur Sikri, (NCST, MUMBAI,) 1999
CONFERENCES: NATIONAL AND INTERNATIONAL
Paper on 'Performance and its Peripherals', Seminar-cum-Workshop on Documentation and Archiving, Archives and Research Center For Ethnomusicology, Pune, 1984
Presentation on 'Oral Traditions', Training Workshop in Documentation and Dissemination of Performing Arts in Asia, Center for Cultural Resources and Training, New Delhi, 1986
Paper on 'Text, Tone and Tune: An Indian Perspective', 'International Seminar on Text, Tone and Tune, Archives and Research Center for Ethnomusicology, New Delhi, 1987
Paper on 'The Non-musical Uses of Music', The Indo-Soviet Seminar on Music, New Delhi, 1988
Paper on 'The Indo-Portuguese Experience: Performing Arts,' The Indo-Portuguese Colloquium, New Delhi, 1988
Presentation on 'Traditional Forms in Contemporary Theatre', Nehru Shatabdi Natya Samaroha, New Delhi, 1989
Paper on 'Time and Tala: Musicology and Aesthetics', Also staged a happening on the theme 'Space-time, Time-Space, Seminar on Time, 'Max Mueller Bhavan and N.C.P.A., Bombay, 1989
Paper on 'Limits, Borders and Boundaries: Performance, Seminar on 'Limits, Borders and Boundaries', Bombay, 1990
Paper on 'Religion and Music' and Presentation of a compeered programme entitled Devgani, Seminar on Religion and Music, N.C.P.A. and Kalanirnay, 1990
Paper on 'Music, Growth and Aging: An Indian Perspective', Also a concert. Music, Growth and Aging, Rochester University and Eastman School of Music, Rochester, U.S.A., 1991
Paper on 'The Felt Space in Music and Theatre', Workshop on Space, N.C.P.A. and Max Mueller Bhavan, Bombay 1991
Paper on 'Organization of Time: Written and Oral Word', Oral Tradition, Written Word and Communication Systems', Sahitya Akedemi, New Delhi, 1992
Paper on 'Music and Colour in Hindustan', also conceived, composed and compeered a composite programme entitled 'Sangitrang', Seminar on Color, N.C.P. A. and Max Mueller Bhavan, Bombay, 1992
Paper on 'Thoughts, Culture and Ideas in the Nineteenth Century: Performing Arts', International Conference on Maharashtra, S.N.D.T. University, Bombay, 1993
Paper on 'Cinematic Structure and Music in India', International Seminar on Cinema, Sahitya Akademi, New Delhi, 1995
Paper on ' The Singing Voice: Some Asian perspectives', International Seminar on 'Continuities and Divergences in Performing Arts – South Asia and South East Asia', Asiatic Society, Calcutta, 1995
Paper on 'Tanpura: A Phenomenon', Seminar on Tanpura, Music Forum, Bombay, July 1997
Paper on 'Modernism in Maharashtra: Music and Song', International Conference on Maharashtra, Maharashtra Vidyapeeth, Pune, 1997
Paper on 'Bandish', Workshop on Bandish, Music Forum, Bombay, 1997
Presentation on 'Diversity and Heritage in Music: India', Indian National Science Association: 67th session, New Delhi, 1997
Paper on 'Guru-Shihya Parampara: In Larger Perspective', International Seminar on Teaching of North Indian Music, Music Forum, Bombay, 1998
Paper on 'Shringar to Shangar: Musical Gamut', International Seminar on Shangar and Shringar, organized by Carleton University, Canada and University of Bombay, Bombay, December 1998
Paper on Ideas of Musical Excellence, International Seminar on Saundarya, organized by Carleton University, Canada and India International Center, India, Delhi, November, 1999
Paper on 'Communication in Music', International Seminar on Technique Vs Content, Music Forum, Mumbai, December 1999
Paper on 'Women Composers in India', Italy, 1999
Paper on 'Religion and Music', Amman, Jordan, September 2000
Lecture-demonstration tour, U.S.S.R., on behalf of the Government of India, 1976
On Election to Coulson Indology Fellowship, Wolfson College, Oxford, U.K., 1979
On Invitation of the University of Mauritius, 1980
Study Tour to China, Government of India, 1984
Represented India in the SAARC Workshop on Documentation of Oral Traditions, Islamabad, Pakistan, 1987
Represented India in the Asian\Pacific Music Materials Co-Production Programme, Asian Cultural Center For the UNESCO, Tokyo, Japan, 1989
Invited to the Conference on 'Music, Growth and Aging' Rochester University of Medicine and Eastman School of Music, Rochester, U.S.A., 1991
Ninth Tokyo Summer Festival, Arion-Edo Foundation, Tokyo, Japan, 1993
The House of World Culture, Berlin, Seminar on 'Wilderness'. Paper on 'Wilderness, Rama, Ramayana and Music', Berlin, Germany, 1995
Represented India in the Training Workshop on Traditional Musical Instruments for Asia, Presented a paper on 'Traditional Musical Instruments in India: A Contemporary Perspective', Iranian National Commission for UNESCO, Teheran, Iran, July-August 1996
Seminar on 'The History of North Indian Music: 14th – 20th Centuries', Presented a Paper on Marathi Stage Music. Rotterdam Conservatorium, Holland, December 1997
Represented India and presented a paper on 'Music Education in a Multi-cultural Society', International Music Council of UNESCO, Aarhus, Denmark, 2nd -5th July, 1998
The Eighth International Conference on Maharashtra, Sydney, University Department of History, Paper on 'Body, Music and Maharashtra', Sydney, Australia, January 5th to 10th 1999.
Audio Recording and Oral Tradition, Berlin Phonogram Archives, Berlin, October 2000
Kenya Music Festival, Nairobi, 2002
Composed and presented music along with Prof Sandeep Bhagwati for Contemporary Exchange, Ensemble Moderne, Berlin-Frankfurt, Germany,2003
Visiting Professorship in Ethnomusicology, The Queen's University, Belfast, Northern Ireland, U.K. 1989
Appointed National Lecturer in Music, University Grants Commission, New Delhi, 1991-92
Selected to the Tagore Chair for Humanities, M. S. University of Baroda, 1994-95 (Lectures on: Music, Growth and Aging, Music and Myth)
Master Krishnarao Phulambrikar Puraskar, Maharashtra Sahitya Parishad, Pune 1998
Music Forum Award for Music Research, Music Forum, Mumbai, 1998
Distinguished Visiting Professor, Colorado College of Music, Colorado Springs, U.S.A., 2003 and 2007
Ford Visiting Fellowship: School for Aesthetics and Arts, Jawaharlal Nehru University, New Delhi, India, 2005
Government of Maharashtra Award for Kaladan, 2007
Narhar Kurundkar Puraskar (Sameeksha) Government of Maharashtra Award for the Publication entitled Sangeetvichar, 2009
'Chaturang Jeevan Gaurav Puraskar', 2010
P. L. Deshpande Puraskar by Govt. of Maharashtra for 'Mala Bhavlele Sangeekar', 2010
Sangeet Natak Akademi Award, New Delhi, 2010