About Dr. Ashok Da Ranade
Dr. Ashok Damodar Ranade (25th November 1937, Pune – 30th July 2011, Mumbai) was a scholar musician par excellence. Dr. Ranade was a vocalist trained in traditional Hindustani Art music. He was a composer constantly experimenting with new uncharted vistas. A highly respected Guru, Voice Culture specialist, analytic thinker, profound writer, master orator and a pioneer of Cultural Musicology in India, Dr. Ranade was a missionary who contributed in enriching India's cultural life in the 21st century.
About Dr. Ashok Da Ranade Memorial Trust
Instituted in 2015 to perpetuate the legacy left behind by scholar-musician and thinker Dr Ashok Da Ranade, the Memorial Trust seeks to encourage scholarship in the performing arts. The presence of cultural plurality and diversity in India and its reflection in the musical landscape of the country was a significant area of engagement for Dr Ranade in his ethnomusicological writings, and it is this idea of inclusivity that we hope to preserve and propagate through the activities of the Trust.
The annual memorial lecture series is a step in this direction, as it seeks to reflect upon ideas and themes that engaged Dr Ranade and that are represented in the large body of work he has left behind. The Trust also holds seminars on similar subjects. In addition, the Trust will award fellowships for research projects in music, dance, drama, and interdisciplinary studies involving one or all of these.
The Trust also provides support to the Dr Ashok Da Ranade Archives situated in Pune, Maharashtra.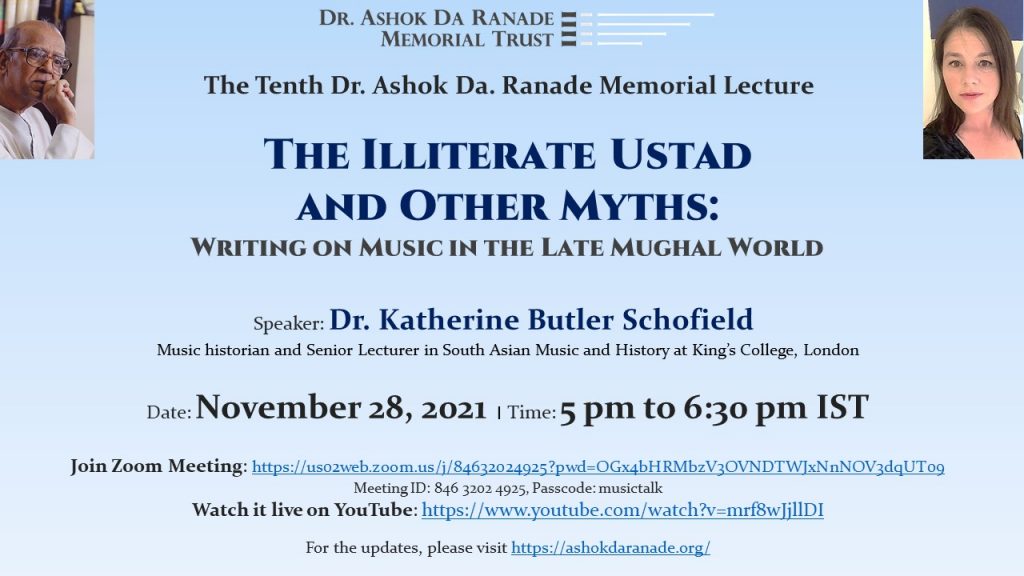 The Illiterate Ustad and Other Myths: Writing on Music in the Late Mughal World
Date: November 28, 2021 | Time: 5 pm to 6.30 pm IST